SXM Festival returns to Saint Martin for 2024 Edition announcing phase one of Lineup!
The organizers said:"SXM Festival it is back in 2024 for an immersive week that puts you in full control of your festival experience. The Festival takes over both sides of the gorgeous Caribbean island of Saint Martin / Sint Maarten with a world of cultural delights, escapist day trips, unique island experiences and many more surprises to complement the carefully curated soundtrack. 
Phase One of this year's line-up is a mouthwatering list of world class and carefully curated names including Adam Ten, AJ Christou, Anja Schneider, Chus, Dana Ruh (live), Doc Martin, Eli & Fur, Fleur Shore, Harry Romero, Ilario Alicante, Kevin Saunderson, Loco Dice, Robag Wruhme, Roy Rosenfeld, Shimza and Tiefschwarz amongst many more. 
Since its debut back in 2016, SXM Festival has remained focused on curating lineups that unite legendary names and emerging acts alike from far-reaching corners of the globe. Some of clubland's most celebrated selectors and live acts descended on St. Martin and that will be the case again in 2024. 
This year, the week-long SXM Festival will elevate the festival experience to all new heights. Attendees are invited to design their own experience for three to seven days of magical memories. SXM Festival is a place where individuality is embraced and you're free to reflect your own unique spirit as you discover this tropical island getaway with an electrifying electronic soundtrack that plays out day and night next. 
Crafting a harmonious blend of partying and island exploration, SXM Festival has perfected the art of tailoring your experience. Immerse yourself in the lush tropical wonders – from invigorating hikes and cultural excursions to captivating day trips – until your heart and soul are utterly enriched."
Here you have the official billboard & the confirmed names!
Save the dates!
Z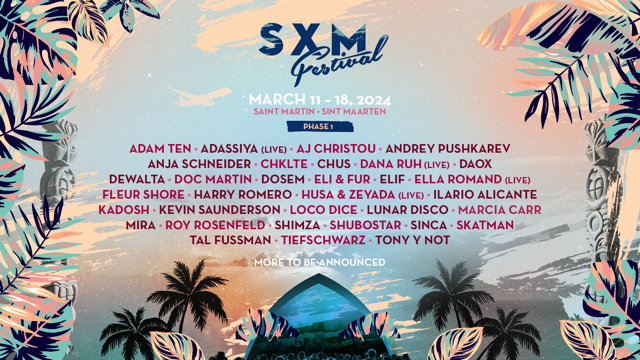 A-Z confirmed artists:
ADAM TEN
ADASSIYA (LIVE)
AJ CHRISTOU
ANDREY PUSHKAREV
ANJA SCHNEIDER
CHKLTE
CHUS
DANA RUH (LIVE)
DAOX
DEWALTA
DOC MARTIN
DOSEM
ELI & FUR
ELIF
ELLA ROMAND (LIVE)
FLEUR SHORE
HARRY ROMERO
HUSA & ZEYADA (LIVE)
ILARIO ALICANTE
KADOSH
KEVIN SAUNDERSON
LOCO DICE
LUNAR DISCO
MARCIA CARR
MIRA
ROY ROSENFELD
SHIMZA
SHUBOSTAR
SINCA
SKATMAN
TAL FUSSMAN
TIEFSCHWARZ
TONY Y NOT