Are you ready for Ibiza 2023?
Iconic poolside paradise Ibiza Rocks is  bringing a diverse mix of the freshest and finest music talent to its all new stage. This summer, the newly remodelled venue will see next level production,a bigger dancefloor and a second spectacular pool space, as Ibiza Rocks bringstogether a multitude of different artists, genres, sub cultures and communities at the
Home of the Pool Party in Ibiza.
This summer, Ibiza Rocks welcomes the return of huge headline residencies from
Becky Hill, Craig David, Joel Corry, Nathan Dawe and Tom Zanetti, plus weekly
club brand favourites Applebum and Ibiza Anthems. With the fan favourites firmly
nailed, Ibiza Rocks is excited to also be announcing a second round of brand new
residencies later this month.
Ibiza Rocks media team said:"Guests will get a true taste of what's to come this summer at the two opening party weekends featuring six different pool parties with an all-star Rocks' residents line up.
On 12 th – 14 th May, Nathan Dawe (12 th ), Joel Corry (13 th ) and Becky Hill (14 th ) will
mark the official start of summer before handing the reins to fellow headliners Ardee
(19 th ), Craig David (20 th ) and another very special guest (21 st ) for the opening party
finale weekend on 19 th – 21 st May.
For the weekly line up every Monday from 5th of June until 31st of July, Ibiza's
biggest genre-crossing pool party is back, as Nathan Dawe returns for a third
consecutive summer of pool parties at Ibiza Rocks. From filming music videos (21
reasons) to leaking his new singles (Sweet Lies), Nathan always brings more than
just a party – expect special guests, amazing production and a setlist packed with
RnB, house, rap, drum & bass and more.
Tuesdays will celebrate The Sound of Ibiza Rocks including huge 9-week
residencies from both Craig David and Becky Hill. Craig David presents TS5 returns
this summer on Tuesdays from the 1st of August until the 26th of September, igniting
the dancefloor with the best garage and house tunes and featuring a huge cast of
names on the lineup.
After an incredible debut season of YOU / ME / US last summer, BRIT-award winner
and dance music powerhouse Becky Hill returns to The Home of the Pool Party for an
extended 9-week residency, on Tuesdays from 30th May until 25th July. YOU / ME /
US is a vision of what a rave should look like, a 7 hour day-to-night pool party
embracing what dance music and club culture represents. Curated with inclusivity and
diversity at its heart, a fun and safe space for all to enjoy – no matter their gender,
sexuality or race.
Taking centre stage on Wednesdays is multi-platinum-selling, multi BRIT nominated
DJ/Producer Joel Corry.  Following an incredible 2022 which saw Joel play more than
60 shows over the summer, including 18 at Ibiza Rocks, Joel will bring his infectious
sound poolside with a mix of his chart-topping hits, old school anthems and
underground ID's, for a 17-week headline residency, every Wednesday from 7 th  June to
27 th  September at Ibiza Rocks.
The Leeds party-starter, Tom Zanetti, returns to Ibiza Rocks for 3 consecutive
Wednesdays at the end of May after two huge sold out pool parties at Ibiza Rocks last
summer.
Every Friday this summer, Ibiza Rocks will present an afternoon of the biggest anthems
from the island of dance – past, present and future, as the UK's No.1 mashup DJ duo,
Switch Disco celebrates the music that connects the island and makes it such a special
place to party. Expect a high-energy afternoon of 90s dance classics, brand new chart
toppers and iconic club bangers.
Ibiza's biggest hip-hop R&B pool party is back on Saturdays. From London to Sydney,
Berlin to Ibiza, the Applebum crew have been laying down their signature party style,
throwing some of the flyest urban club nights around, whilst sharing the joy, freedom
and energy of Hip Hop culture with people across the globe. From throwback anthems
to future classics, Applebum is a celebration of urban music on a quest of discovery
through the sounds, fashion and lifestyle of a movement that helped shape a
generation.
Still to be announced is Ibiza Rocks' brand new Thursday residency with some of the
biggest names from the UK grime and rap scene plus an exciting new debut Sunday
residency and more than a few special guests along the way. Watch this space."
Here you have the official billboard!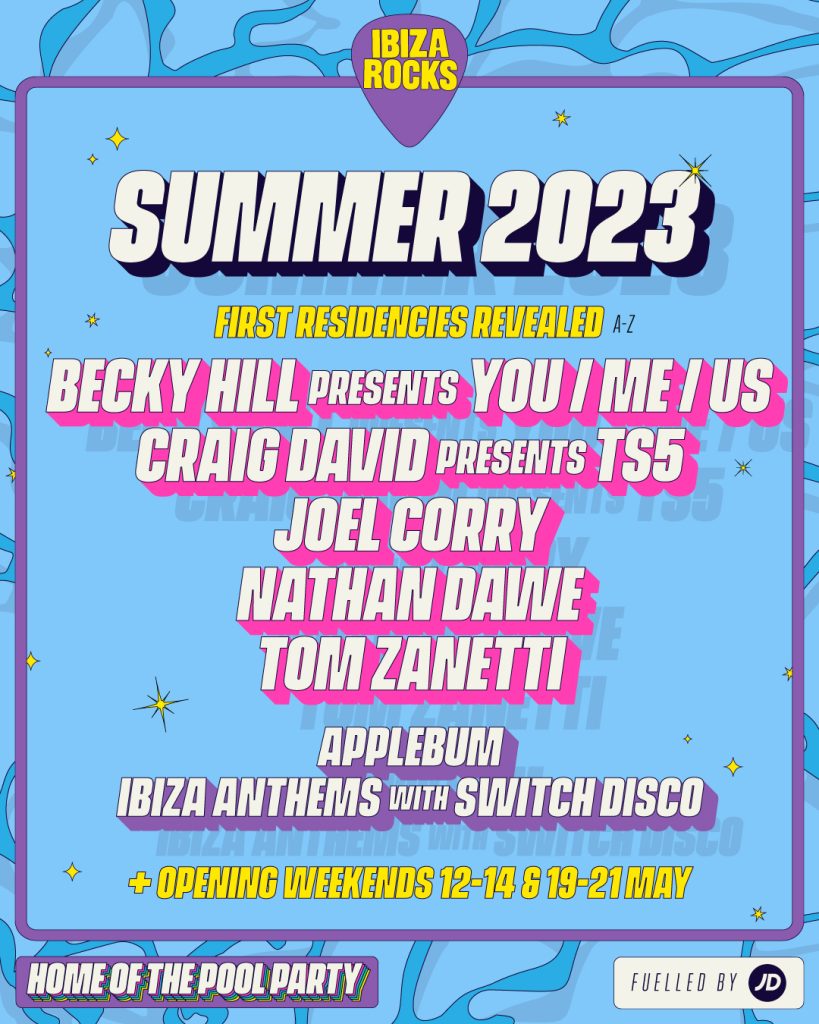 OPENING PARTY WEEKENDS:
12 TH May / 13 th May / 14 th May
NATHAN DAWE / JOEL CORRY / BECKY HILL
19 th May / 20 th May / 21 st May
ARRDEE / CRAIG DAVID TS5 / VERY SPECIAL GUEST
SUMMER 2023 LINE UP:
MONDAYS
NATHAN DAWE
5th June to 31st July
TUESDAYS
BECKY HILL
30th May to 25th July
CRAIG DAVID
1st August to 26th September
WEDNESDAYS
TOM ZANETTI
17th May to 31st May
JOEL CORRY
7th June to 27th September
THURSDAYS
TBA
FRIDAYS
IBIZA ANTHEMS (with SWITCH DISCO)
28th April to 29th September
SATURDAYS
APPLEBUM
29th April to 23rd September
SUNDAYS
TBA